Each year, every state in Australia experiences preventable fires within residences, schools, shops, warehouses and workplaces.
The Building Code of Australia, local authorities and regional occupational health authorities dictate that property owners are required by law to fit all premises (other than private homes) with appropriate fire doors. These regulations aim to slow down the spread of a fire to allow people to exit the building safely.
If fitted incorrectly, a fire door can fail in under 5 minutes, putting lives and property at risk. We have summarised all the information you will need to be compliant when installing fire doors.
---
What Are Fire Doors?
A genuine fire door should prevent a fire from spreading from one room to another for a certified length of time. A fire door is just one tool in a larger arsenal designed to stop a fire rapidly enveloping a building and giving people time to escape.
For a fire door to be certified as being a fire door the following is required:
Fire rated frame and hardware
Fire rated automatic door closer
It needs to be able to withstand the heat exposure caused by a fire for 60 or 120 minutes, according to the Australian Standards AS1905 (fire resistant doorsets).
The difference between a fire door and a regular door
A normal door usually has the primary purpose of improving room segregation, sound insulation and/or security against intruders rather than retardance to flames, smoke and heat.
A fire door, on the other hand, has been designed and manufactured to achieve a fire-resistance rating signifying its effectiveness in slowing or stopping the spread of fire and smoke throughout a building.
How to identify a fire door
The easiest way to identify a fire door is by looking for the mandatory signage: usually a blue sticker with white writing reading 'fire door keep shut'.
You should also be able to identify a fire door from the following key features:
Gaps – Gaps between the fire door and its frame at the head and stiles must not exceed 3mm. Additionally, there will be no more than 10mm and no less than 3mm of clearance between the fire door and finished floor.
Intumescent Seals – The seal must be heat-sensitive, preventing the spread of fire and smoke by swelling when warmed – consequently sealing the gap between door and frame. Check the frame and door profile for a thin intumescent strip running down the middle.
Hinges – The hinges must be fire resistant, typically made from stainless steel or zinc.
Closing Mechanism – The door should close itself firmly from a halfway-open position and should not stick.
Fire-safe sill – The sill of the opening must be made from a non-combustible product, such as concrete.
Fire-safe locks – Fire doors will not lock from the outside to ensure a safe egress from the building and all hardware must be fire rated.
Fire-safe frame – Fire doors feature fire-rated steel frames to offer optimal defence against combustion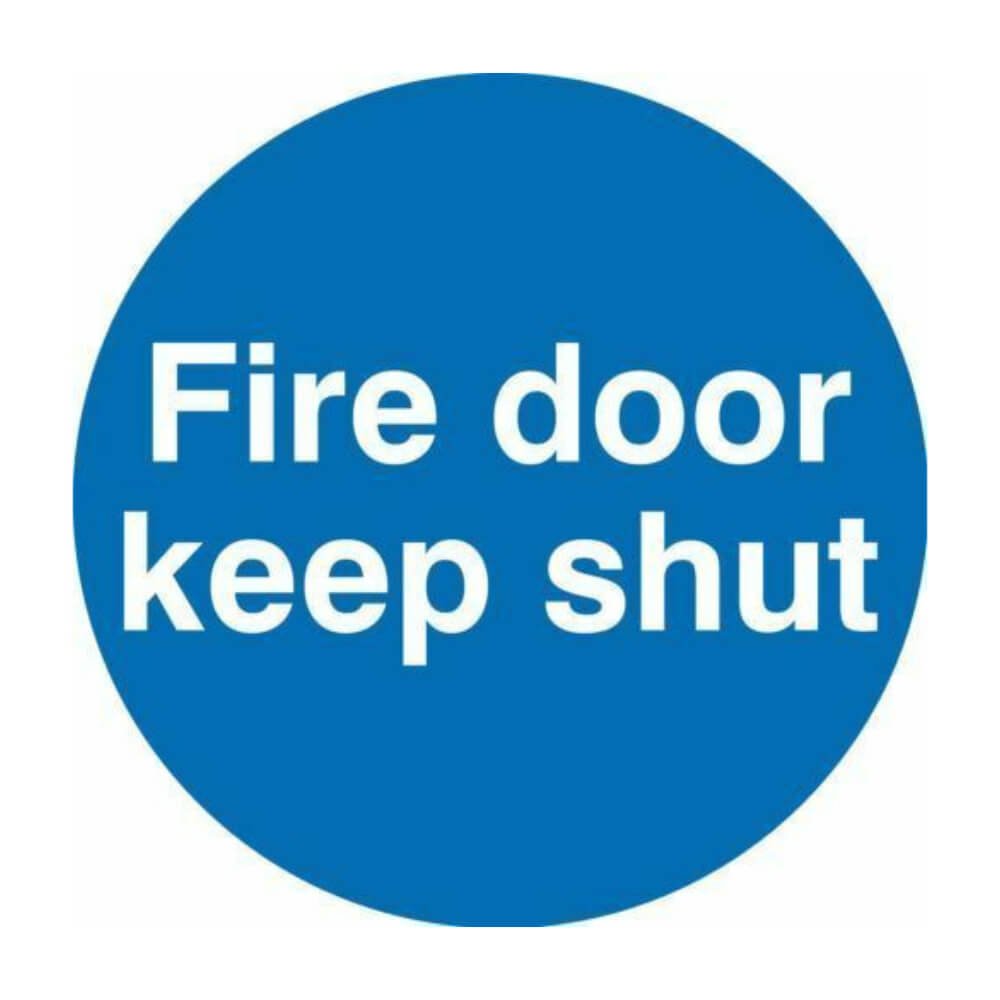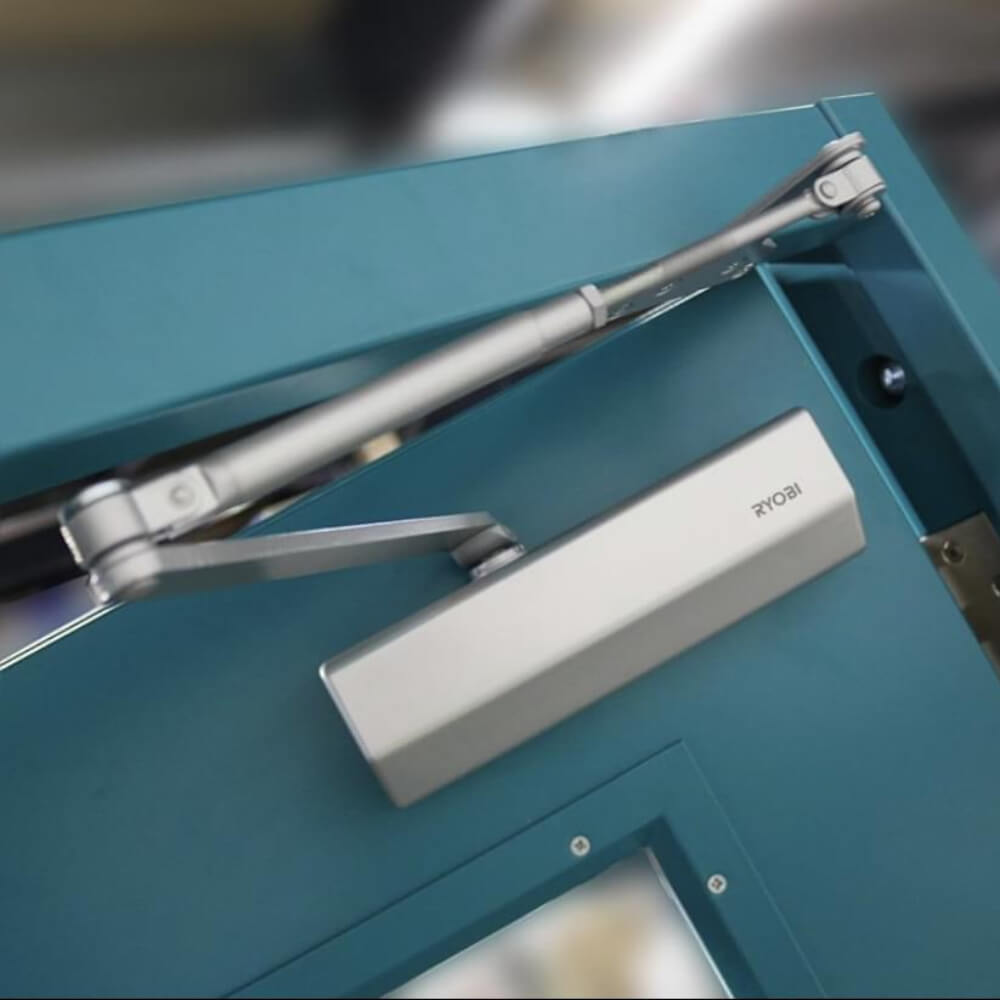 Types of fire doors
Glass fire doors
While not as common as steel or wooden fire doors, pyropanel glass fire doors are becoming increasingly popular as a more aesthetically pleasing option for an internal door which will still comply with fire safety regulations.
All pyropanel fire doors must use fire rated glass. Fire rated glass has been tested and approved as acting as a barrier for flames and smoke. Some fire rated glass will also act as a heat barrier. Fire rated glass can withstand temperatures in excess of 900°C while normal glass is unable to withstand anything above 120°C. Property fires will rage in excess of 600°C which is why it is essential your glass fire door is compliant with fire safety regulations.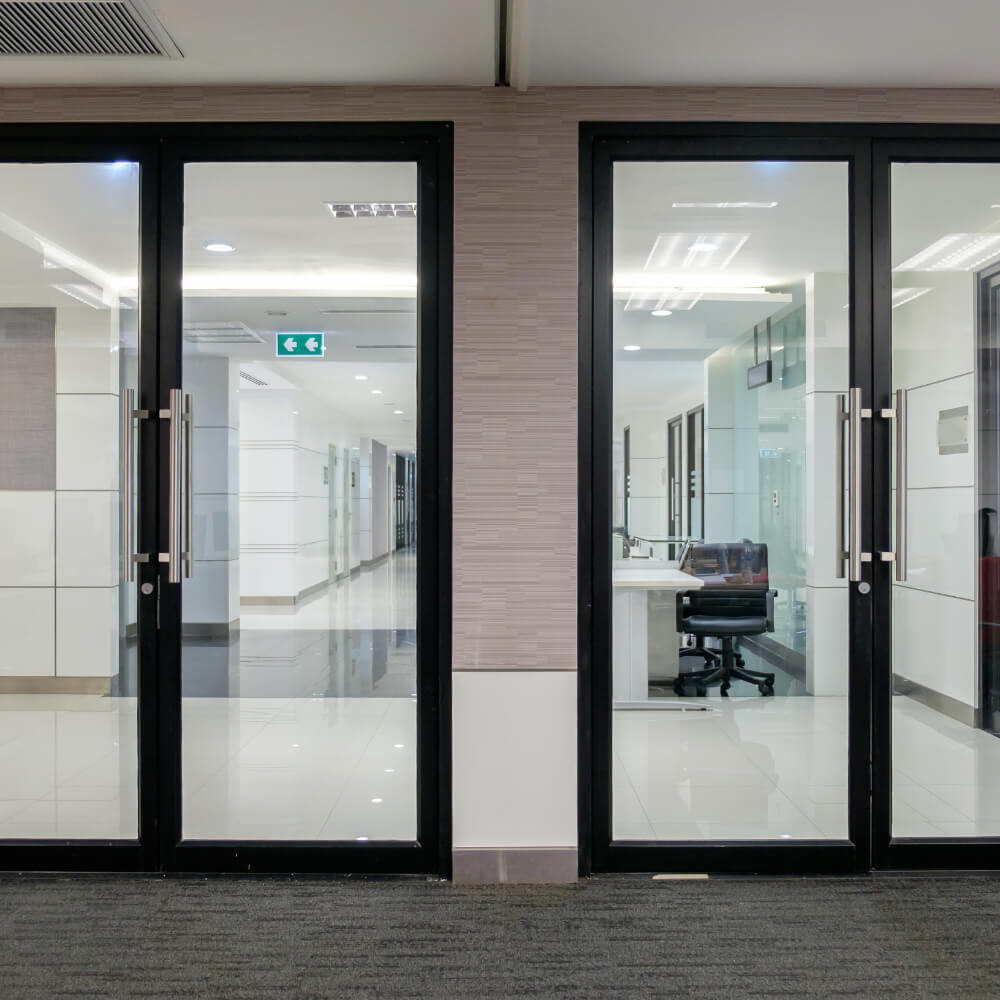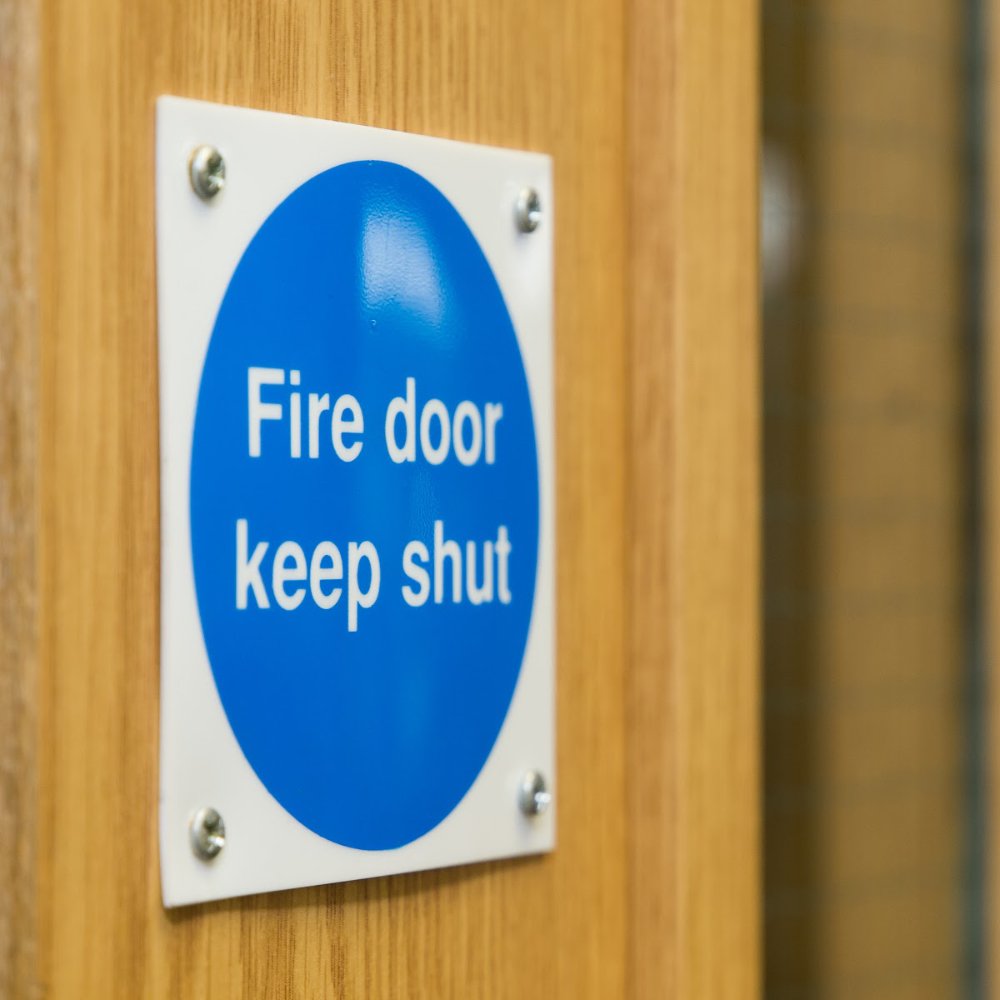 Wooden fire doors
Most wooden fire doors will have a solid core which could be made from timber, flaxboard, magboard or particleboard. This core can then be built on in multiple ways: a timber framing with a laminated outer, plywood or MDF glued to the core without framing or a lipping around the core followed by a veneer. Any method can be used as long as the fire rating is achieved.
Steel fire doors
Steel fire doors can offer up to 4 hours of fire protection in comparison to 30-60 minutes from non-metal doors. The standard of fire protection will be verified following the testing procedure as specified in Australian Standards AS1530 and AS1905.
The strength and durability of a steel fire door means that they may be favoured in environments where increased security is required. Steel fire doors are also easy to clean and are commonly used in kitchens, hospitals or other industries where high levels of hygiene are required.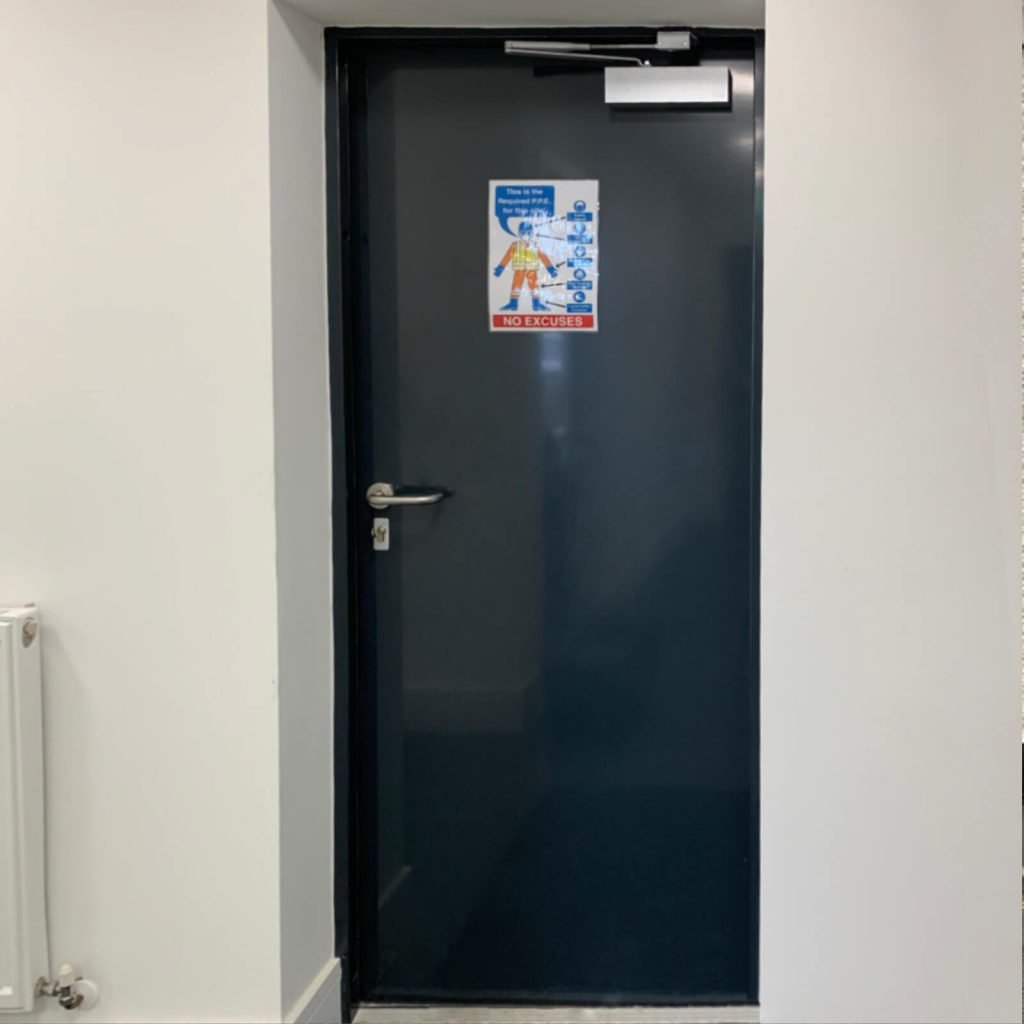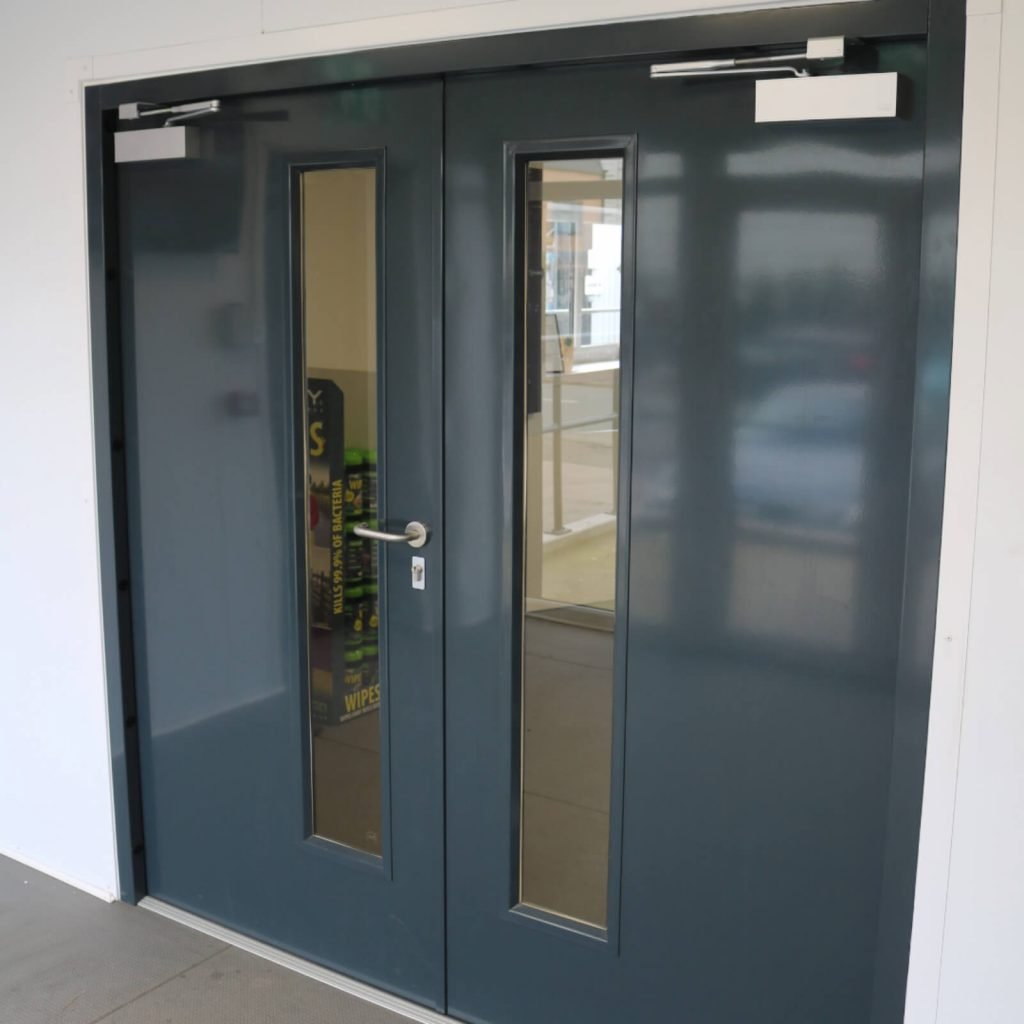 Double fire doors
A double fire door must comply with Australian Standards AS1530 and AS1905. Double fire doors are ideal for larger openings and buildings with high occupancy due to their two-way swing.
Prehung fire doors
Pre hung fire doors may be used to save time and money on large or new build construction projects. The door leaf, frame, and often the architraves, are supplied as a single entity ready to be installed as one. Prehung fire doors are usually fitted after construction work has ceased, reducing the possibility of any damage to your fire door resulting in non-compliance with fire safety regulations.
Fire door ratings
In Australia, fire doors are assigned an FRL rating associated with the length of time they can withstand fire for and how long they will remain cool to the touch for. For instance, a -60/30 door will offer 30 minutes of protection from fire and remain cool for 30. The dash (-) means that the door is non load bearing, instead providing insulation protection from fire.
Fire doors are tested and rated based on the following variables:
Structural adequacy – how long the structure will support the load and remain vertical
Integrity – How long the structure will inhibit flames
Insulation – how long the structure will not increase in temperature.
There are generally two different types of fire doors used:
Sole Occupancy Unit FRLl -/60/30: one-hour rated
Common Property Fire Door FRL -/120/30: two-hour rated.
In Australia, fire doors and components can only be tested and certified by registered, accredited testing authorities like the CSIRO (The Commonwealth Scientific and Industrial Research Organisation). The National Association of Testing Authorities governs testing regulations and organisations in Australia.
Fire Door Regulations in Australia
What are fire door regulations
Fire doors in existing buildings, other than domestic properties, are governed by the requirements of the BCA's ordinances AS1428.1 (Disabled compliance) and Part D1 (Provision for escape) and Australian Standard AS 1905.1:2015.
Internal & external fire door regulations
An internal fire door is intended to split a building into compartments in the event of a fire, ultimately providing an escape route for the length of time indicated by the FRL rating. In contrast, an external fire door sits at the end of this escape route and does not need to be fire resistant or kept closed. Providing this external door complies with the regulations for fire doors (clear signage, method of opening from the inside) and it is never blocked, it can be classified as a fire door.
How often does a fire door need maintenance?
Fire doors must be maintained in accordance with the Building Code of Australia and local council legislation. Typically, the doors should be inspected and maintained by a qualified person at the below intervals:
Common Property Fire Doors – 6 months
Sole Occupancy Unit Fire Doors – 12 months.
However, check your local council's requirements as the rules may vary from place to place and depending on the type of building.
What is an appropriately qualified person?
An appropriately qualified person is someone who holds a licence to carry out work on fire safety installations. Their licence can be typically issued by a local authority.
Who is responsible for fire safety in commercial buildings?
Employers have sole responsibility for fire safety for their employees. Occupational Health Services Australia (OSHA) states that employees have the right to working conditions that do not pose a risk of serious harm and that failure to ensure that this is the case can result in a complaint, inspection and legal prosecution. The fitting of fire doors in a commercial building is the responsibility of a 'responsible person' such as:
An employer or a self-employed person with business premises
A charity or voluntary organisation
A contractor with a degree of control over any premises
A person providing accommodation for paying guests.
Regulations for installing fire doors
There is no legal requirement for the installation of fire doors to be undertaken by an individual with any specific qualification or accreditation. However, the slightest gap or crack between the door and the frame, glasswork or seal can cause the fire door to become faulty and fall short of BCA requirements and Australian Standards for fire safety, therefore it is important that they are fitted by a trusted and experienced professional.
Fire door frame regulations
A fire door frame is one of several components that make up a fire door. Door frames should be purchased from the door manufacturer or from a company licensed to manufacture them. There may be circumstances where fitting new frames is not possible or practicable. In these situations, it may be more practicable to fit intumescent seals into the door edge. As previously mentioned the gap between the door and the frame must be no more than 3mm.
Fire door maintenance regulations
Fire doors must be regularly inspected and maintained to ensure they are fully functional should they need to be used. In most cases, for a commercial building the frequency is every 6 months and for industrial or residential buildings the frequency is annual
Australian standards for fire doors
The two main Australian standards for fire doors are as follows:
Australian Standards AS1905 – This standard specifies the requirements for design, construction and installation of doorsets used to protect openings in fire-resistant walls and partitions. Compliance is based on prototype testing in accordance with
AS 1530.4 outlines the specifications against which fire doors must be tested to be deemed compliant and offer a suitable defence in the event of a fire.
Fire door requirements for domestic buildings
The fire door regulations do not apply to residential buildings. It is therefore unlikely that you will need to be concerned with installing a fire door in your home.
Differences Between Fire Doors and Fire Exit Doors
Many external fire doors are not actual fire doors, but instead fire exit doors with push bar handles. These doors are governed by a set of fire exit regulations. Fire exits may be used as a normal door when the premises are operating under its usual circumstances.