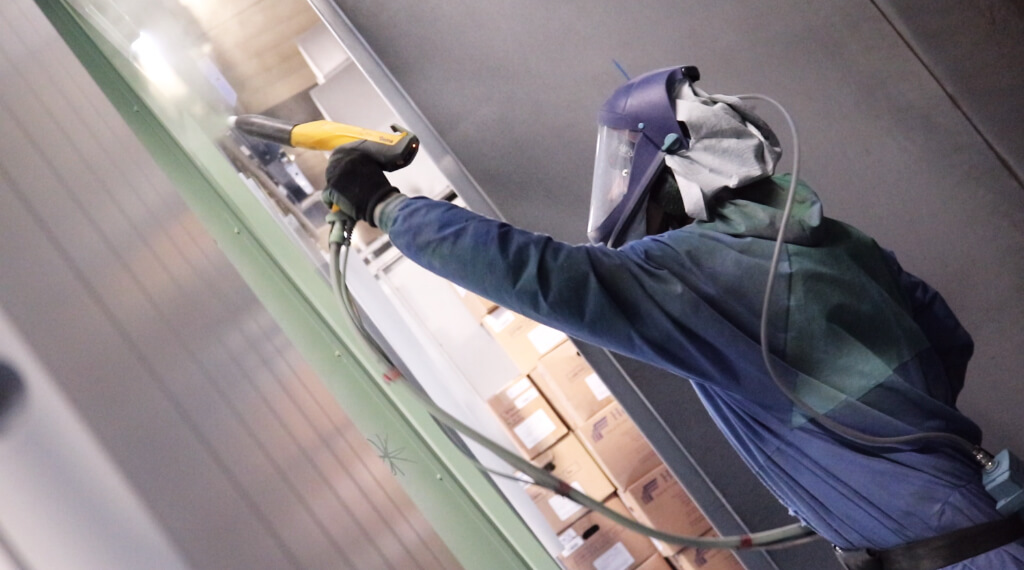 Our steel doors are offered from stock pre-finished in white powder coat. We offer a powder coating service to change the colour of the door and frame. Not only does this allow you to customise your steel door to match the aesthetics of your building, but also add a further level of protection to increase the durability and longevity.
Unlike normal wet paint, powder coating is applied using a dry powder that is electrostatically charged to stick to the doors, and then cured in an oven, to give a smooth, hard finish that is much tougher than conventional paint.
All of our powder coating is done locally in Perth at a specialist plant using only the highest quality Interpon® powder coat. Our doors are manufactured with galvanised steel and finished with polyester powder coated in white as standard. Each door then undergoes another double layer powder coating in your chosen colour. Any accessories that are purchased with your door, such as overhead panels, side panels or cills are also powder coated to match.
This service does add an additional lead time of 5-10 working days, on top of delivery times, to your order.
Please view the full colour chart below. We have standard stock and special colours available, but are also able to source a specific colour if required. If the colour you require isn't listed below, get in touch and discuss your requirements with our team!
Powder Coat Costs
Stock Colours*
1 Single Steel Door – $250 + GST
1 Double Steel Door – $350 + GST
*for custom colours, add $50 + GST
Only certain ranges from our stock are available for powder coating. See the list below:
Powder Coat Finishes
Powder coat is available in 3 finishes: Matt, Satin and Gloss. The names of these finishes are deceiving, since they all contain an element of gloss; even Matt has a reasonable 'sheen' and doesn't look as dull as you may suspect.
Matt contains 30% gloss, typically. Satin around 50% gloss and Gloss is around 70% gloss.
We offer Matt finishes as standard since this is now the industry standard. Most powder coat manufacturers hold their largest core range in Matt, for this reason.
It may be your preference to increase the level of sheen and we are always willing to accommodate. Please get in touch for Satin or Gloss powder coat finishes.
Why does the powder coat service add to our lead time?
When you choose to change the colour of your steel door and frame, it requires a comprehensive set of manufacturing processes. They are listed below:
Your order is processed
The warehouse department pick your steel door and take it to the manufacturing department
The manufacturing department unpack your door & a QC inspection takes place
It is then taken to disassembly where the door and frame are stripped of all hardware
The door is transported to our local powder coat facility
The door is cleaned of all contaminants and hung ready for powder coat
The powder coat team coat your door, frame and any accessories then move them to the oven
Once baked they are let to cool and QC checked
The door and components are transported back to HQ
Re-assembly re-build your door and move it to final QC
Once QC has passed, it is taken to repackaging and repackaged
The warehouse department then re-collect your door and take it to the dispatch area
Crucially, for the quality to meet our exacting standards, we factor in additional time for thorough QC inspections and re-coating of powder coat if required.
We aim to complete this process in 5-10 working days, but can fast track urgent jobs through in as quickly as 3 days if required.